2019 BERMUDA INTERNATIONAL
LIFE & ANNUITY CONFERENCE
Morning Keynote
Civil Politics
James Carville and Mary Matalin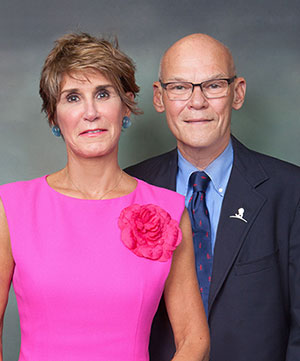 James Carville and Mary Matalin are not only proof that politics makes strange bedfellows, but that opposites do in fact attract. She's a conservative, he's a liberal; she's from the heartland, he's from the Deep South; she speaks English, he does not;
They began officially dating in January of 1991. That following December, in the same week she was named Director of President George Bush's 1992 re-election campaign, he was named chief strategist for the 1992 Clinton presidential campaign. Although they both swear they never planned to see each other during that election year, somehow there were enough chance meetings that they ended up getting married on Thanksgiving Day in 1993.
Since their marriage, Mary has served as an assistant to President George W. Bush and as counselor to Vice President Cheney. James has gone on to manage more political campaigns worldwide than anyone in U.S. history. She was a founding co-host of the TV show Equal Time, and hosted CNN's critically acclaimed TV debate show, Crossfire. He has also hosted Crossfire. She is the author of the national bestseller, Letters to my Daughters. He has written six New York Times best sellers including his latest, We're Still Right, They're Still Wrong.
Individually, each is a champion of their party's convictions and renowned for their extraordinary intelligence and uncanny political insights. Together they wrote one of the nation's best-selling political memoirs, All's Fair: Love, War and Running for President, and collaborated again on their newest memoir: Love and War: Twenty Years, 3 Presidents, Two Daughters and One Louisiana Home. And together they are proof that a liberal and conservative can, in the spirit of bipartisan cooperation, produce two lovely daughters.
Afternoon Keynote
Rebel Talent: Why It Pays to Break the Rules in Life and Work
Francesca Gino
Sponsor: Wilton Re
Francesca Gino is an award-winning researcher and teacher, and a tenured professor at Harvard Business School. Her consulting and speaking clients include Bacardi, Akamai, Disney, Goldman Sachs, Honeywell, Novartis, P&G, and the U.S. Air Force, Army, and Navy. She has been honored as one of the world's Top 40 Business Professors under 40 and one of the world's 50 most influential management thinkers. Her work has been featured on CNN and NPR, as well as in the Economist, Financial Times, New York Times, Newsweek, Scientific American, and Psychology Today.
WELCOME RECEPTION
WEDNESDAY, SEPTEMBER 18, 2019, 5:30 - 7:30 PM
Hamilton Princess Marina
Sponsor: Aon Insurance Managers (Bermuda) Ltd.
Join us for a networking reception at the Hamilton Princess Marina. Enjoy the breath-taking views of Hamilton Harbour at sunset accompanied by the soothing sounds of a local steel pan musician. For guests staying at Fairmont Southampton, enjoy the quick boat shuttle service provided to and from the reception.
Boat Shuttle Times:
Fairmont Southampton Hotel
4:45 pm Boat will depart from Waterlot Dock
7:30 pm Boat will return to Waterlot Dock
Please arrive early for departure times as boat will leave on schedule.
AGENDA
THURSDAY, SEPTEMBER 19, 2019
Thursday, September 19, 2019
8:00-9:00am
Breakfast & Conference Registration
Sponsors: RGAX
9:00-10:30am
Civil Politics
The deepening political divide in America and Europe has an impact on government policy, economics and trade, and our communities. James Carville and Mary Matalin, the world-renowned husband and wife team of political strategists, will cover a wide range of political topics in a moderated discussion from opposite sides of the political aisle, including fresh insights on the upcoming presidential election in 2020, improving political dialog, and closing the ideological divide.
Moderator: Frank L. Gillis (Chip), Athene Life Re
Panel: James Carville and Mary Matalin
10:30-11:00am
Networking Break
Sponsor: EY
11:00-12:00pm
A View from Above
Many of us dream of becoming the CEO of a major insurance or reinsurance company. Attend this CEO session to hear firsthand the challenges and rewards of running a company. Gain insights into how CEOs look at the life and non-life businesses - the benefits, such as diversification and leveraging returns; and the risks, such as distractions and the battle for capital. These industry leaders will share what propelled them to the top as well as their biggest mistakes. Attendees will leave with a new perspective of what it is like to be a CEO.
Moderator: Ronald L. Klein, BILTIR
12:00-1:30pm
Lunch
Sponsor: Marsh Bermuda
1:30-2:30pm
Portfolio Optimization: Collaboration Between Portfolio Manager and Actuary
There are a variety of approaches to asset liability matching (ALM) being employed throughout the long-term (Life) industry. This session will explore how portfolio managers work with actuaries to construct and optimize portfolios to support product liabilities. Trade-offs between matching cash flows, key rate duration and overall duration will be examined, as well as yield, duration, default, liquidity and convexity considerations.
Speakers: Christopher N. Lech and Mark Yu, New England Asset Management
2:30-3:30pm
Demographics and Real Interest Rates
Real interest rates have been trending down for more than two decades across many countries, suggesting that their key drivers go beyond just the accommodative monetary policy implemented by central banks in response to the 2008 financial crisis. In this session, Andrea Ferrero will argue that population demographics is one of these factors keeping rates below historical norms, by illustrating the impact of this extraordinary force on real interest rates using a tractable life-cycle model.
Speaker: Andrea Ferrero, University of Oxford
3:30-4:00pm
Networking Break
Sponsor: EY
4:00-5:00pm
Rebel Talent: Why It Pays to Break the Rules in Life and at Work
Rebels have a bad reputation. We think of them as troublemakers, outcasts, and contrarians, but in this session Francesca Gino, a behavioral scientist who has spent more than a decade studying rebels at organizations around the world, argues that rebels are capable of changing the world for the better with their unconventional outlooks. They defy the status quo, and are masters of innovation and reinvention, and cultivating the rebel talent inside of us allows businesses to evolve and to prosper.
Speaker: Francesca Gino, Harvard Business School
Sponsor: Wilton Re
5:00-6:00pm
Networking Reception: The Fairmont Beach Terrace
Join us for a networking reception overlooking the extraordinary crystal blue waters and pink sand of The Fairmont's private beach. The reception will be a great opportunity to meet with your peers and expand your contacts throughout Bermuda's long-term insurance and reinsurance sector.
Sponsor: Athene Life Re Ltd.
Wi-Fi and AV Sponsor: PwC
BERMUDA INTERNATIONAL LONG TERM INSURERS AND REINSURERS
Welcome to 2019 Bermuda International Life and Annuity Conference sponsored by Bermuda International Long Term Insurers and Reinsurers.
This is the only industry event uniquely focused on the long-term insurance industry in Bermuda. Apart from the many excellent networking opportunities, the event features leading industry experts and stimulating panel discussions. The conference will provide you with insight on the latest trends and issues facing the industry and your company.
About Us
Bermuda International Long Term Insurers and Reinsurers (BILTIR) was created to serve as a formal association representing the long-term insurers and reinsurers in Bermuda.
The primary focus of BILTIR is to act as an advocate for Bermuda's life and annuity industry for public policy that supports the industry marketplace, including regulatory requirements, other Bermuda Monetary Authority or Bermuda government issues, and tax matters with various jurisdictions. BILTIR strives to provide a consistent and coherent voice for concerns of the long-term (re)insurance sector in Bermuda.