Morning Keynote
Overcoming the Resistance to New Ideas
David Schonthal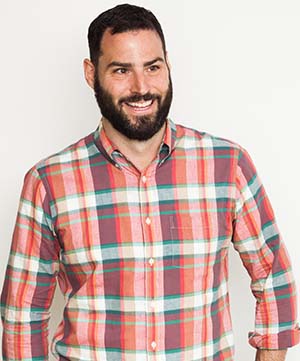 David Schonthal is an award-winning Professor of Strategy, Innovation & Entrepreneurship at the Kellogg School of Management where he teaches courses on new venture creation, design thinking, healthcare innovation and creativity.
Along with his colleague Loran Nordgren, David is one of the originators of Friction Theory – a ground-breaking methodology that explains why even the most promising innovations and change initiatives often struggle to gain traction with their intended audiences – and what to do about it. This work is popularized in David's Wall Street Journal and National Bestselling book, The Human Element: Overcoming the Resistance That Awaits New Ideas (Wiley).
Outside of Kellogg David has been a practitioner of entrepreneurship, design, and innovation for over 20 years. He has spent a decade working at world-renowned design firm, IDEO, and currently serves as an Operating Partner at 7Wire Ventures, a healthcare technology-focused venture capital firm and a Venture Partner at Pritzker Group Venture Capital, a consumer and enterprise-focused fund. David is a Global Advisor at Design for Ventures (D4V), a Tokyo-based early-stage venture capital fund that invests in design-led Japanese startups.
He is a contributing writer to Forbes, Inc., Fortune and Harvard Business Review magazines, authoring articles on corporate entrepreneurship, innovation, change and business design and is a Distinguished Achievement Award Finalist for Thinkers50, an international organization that identifies, ranks, and shares the leading management ideas of our age.
WELCOME RECEPTION
MONDAY, SEPTEMBER 19, 2022, 5:30 - 7:30 PM
Bacardi International Limited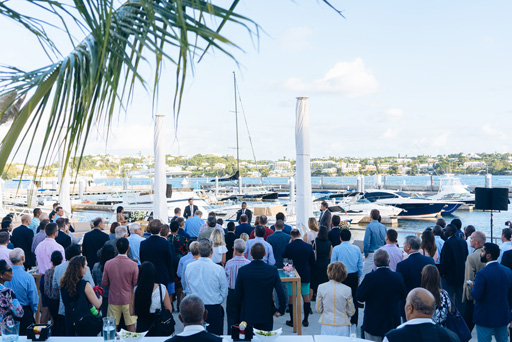 Sponsor: Aon Insurance Managers (Bermuda) Ltd.
Join us for a networking reception at Bacardi International Limited
Bus Shuttle Times:
Rosewood, Bermuda
5:00 pm Bus will depart from the front of the hotel
7:30 pm Bus will return to Rosewood, Bermuda
Please arrive early for departure times as the bus will leave on schedule.
AGENDA
TUESDAY, SEPTEMBER 20, 2022
Tuesday, September 20, 2022
8:00-9:00am
Breakfast & Conference Registration
Sponsors: Deloitte
9:15 -10:30am
Overcoming the Resistance to New Ideas
How do you get people to say yes to a new idea or innovation? The deep assumption of most people in the business of creating change is that the way to sell an idea is to focus on heightening its appeal. We instinctively believe that if we add enough value, people will say "yes." This reflex tends to lead us down a path of adding features to an idea and amplifying its benefits in order to get others on board. These activities and strategies designed to generate demand is a set of tactics we refer to in the book collectively as "Fuel."
But by focusing on Fuel to enhance attraction, innovators often neglect the other half of the equation – the Frictions that work against the desired behavior we seek in others. Frictions are the psychological forces that oppose and undermine change such as:
Inertia: The powerful desire to stick with what we know, despite the limitations
Effort: The energy (real and perceived) needed to make change happen
Emotion: The unintended negative emotions created by the very change we seek
Reactance: The impulse to resist being changed
Panel: David Schonthal
10:30-11:00am
Networking Break
Sponsor: 777 Re
11:00-12:00pm
Bermuda and how it fits into the Global Economy
Bermuda continues to grow as a premier marketplace to manage insurance risks. The session explores how Bermuda-based insurance companies and regulator work together to contribute providing life insurance solutions across various global markets. From both direct and reinsurance perspectives, learn about how Bermuda insurance solutions provide more policyholder/cedent stability and enable better risk management. From a regulatory perspective, learn about how the Bermuda Monetary Authority (BMA) is working to uphold Bermuda's global position as a leading jurisdiction. Join us for a joint panel session comprised of a diverse group of business leaders that serve significant insurance markets, speaking candidly alongside BMA's supervisory division.
Panel: Natasha Scotland-Courcy, Senior VP, General Counsel, COO Athene; Darryl Herrick, President Global Atlantic Re; Amy Ponnampalam, CEO Athora Life Re Ltd; Niall O'Hare, Founder and CEO of Triangle Life; Martin Maringi, Deputy Director, Supervision Insurance Bermuda Monetary Authority
12:00-12:30pm
BILTIR Statutory Meeting
12:30-2:00pm
Lunch
Sponsor: EY
2:00-3:00pm
CRO Panel
Keeping One Eye on the Road Ahead and One Eye on the Rear-view Mirror
The combination of the COVID-19 pandemic, rapid shifts in macro-economic trends, and the continued conflict in Ukraine have fostered a remarkably challenging environment for risk managers. The interplay of various risk parameters has never been more complex. In this panel we will share different Chief Risk Officer perspectives on how innovation and related ESG considerations are shaping insurance risk frameworks as well as driving shifts in the regulatory landscape.
Panel: Peter Giacone, Senior Managing Director Kroll Bond Rating Agendy; Andrew Sooboodoo, Chief Risk Officer Fortitude Re; Michelle Moloney, Chief Risk Officer Pacific Life Re; Paolo Fiandesio, Chief Risk Officer Resolution Re
3:00-4:00pm
Application of ESG to Life Insurance
Beth Cava and Robb Barnum will lead a session on ESG and its implications on the insurance industry.
The purpose of this education session is to present views of:
Why is ESG important in the insurance industry and how it is measured?
What metrics are being used by life insurance companies to evaluate performance
What are the global regulatory trends in ESG reporting?
What is considered a real ESG activity? What is not?
Panel: Beth Cava, Assurance Partner, Deloitte; Robb Barnum, ESG Risk Manager, New England Asset Management
4:00-4:30pm
Networking Break
Sponsor: Kroll Bond Rating Agency
4:30-5:30pm
Life InsurTech & Innovation
With the development of new and emerging technology, leading insurers are on the hunt to find ways to take advantage of new tech capabilities that will help them improve their business models. In this session, learn about the current state of the InsurTech ecosystem, its evolution in the Life space, and how it brings value to our industry. In addition, learn about how the BMA has been forward thinking and been developing new regulations to promote innovation and investment through new licensing options for InsurTech start-ups. As a live case study, listen to an upcoming Life InsurTech company's journey towards the new IILT license in Bermuda.
Panel: Mitchell Klink, Associate Partner, EY; Melanie Fullerton, Senior Counsel, Walkers; Zachary Townsend, Founder, Standard Insurance

5:30-7:00pm
Networking Reception: The Croquet Lawn
Join us for a networking reception taking in breathtaking views from the Croquet Lawn at Rosewood. The reception will be a great opportunity to meet with your peers and expand contacts throughout Bermuda's long-term insurance and reinsurance sector.
Sponsor: Athene
Wi-Fi and AV Sponsor: PwC
BERMUDA INTERNATIONAL LONG TERM INSURERS AND REINSURERS
Welcome to 2022 Bermuda International Life and Annuity Conference sponsored by Bermuda International Long Term Insurers and Reinsurers.
This is the only industry event uniquely focused on the long-term insurance industry in Bermuda. Apart from the many excellent networking opportunities, the event features leading industry experts and stimulating panel discussions. The conference will provide you with insight on the latest trends and issues facing the industry and your company.
About Us
Bermuda International Long Term Insurers and Reinsurers (BILTIR) was created to serve as a formal association representing the long-term insurers and reinsurers in Bermuda.
The primary focus of BILTIR is to act as an advocate for Bermuda's life and annuity industry for public policy that supports the industry marketplace, including regulatory requirements, other Bermuda Monetary Authority or Bermuda government issues, and tax matters with various jurisdictions. BILTIR strives to provide a consistent and coherent voice for concerns of the long-term (re)insurance sector in Bermuda.